Does Yoga Help Anxiety? | POPSUGAR Fitness UK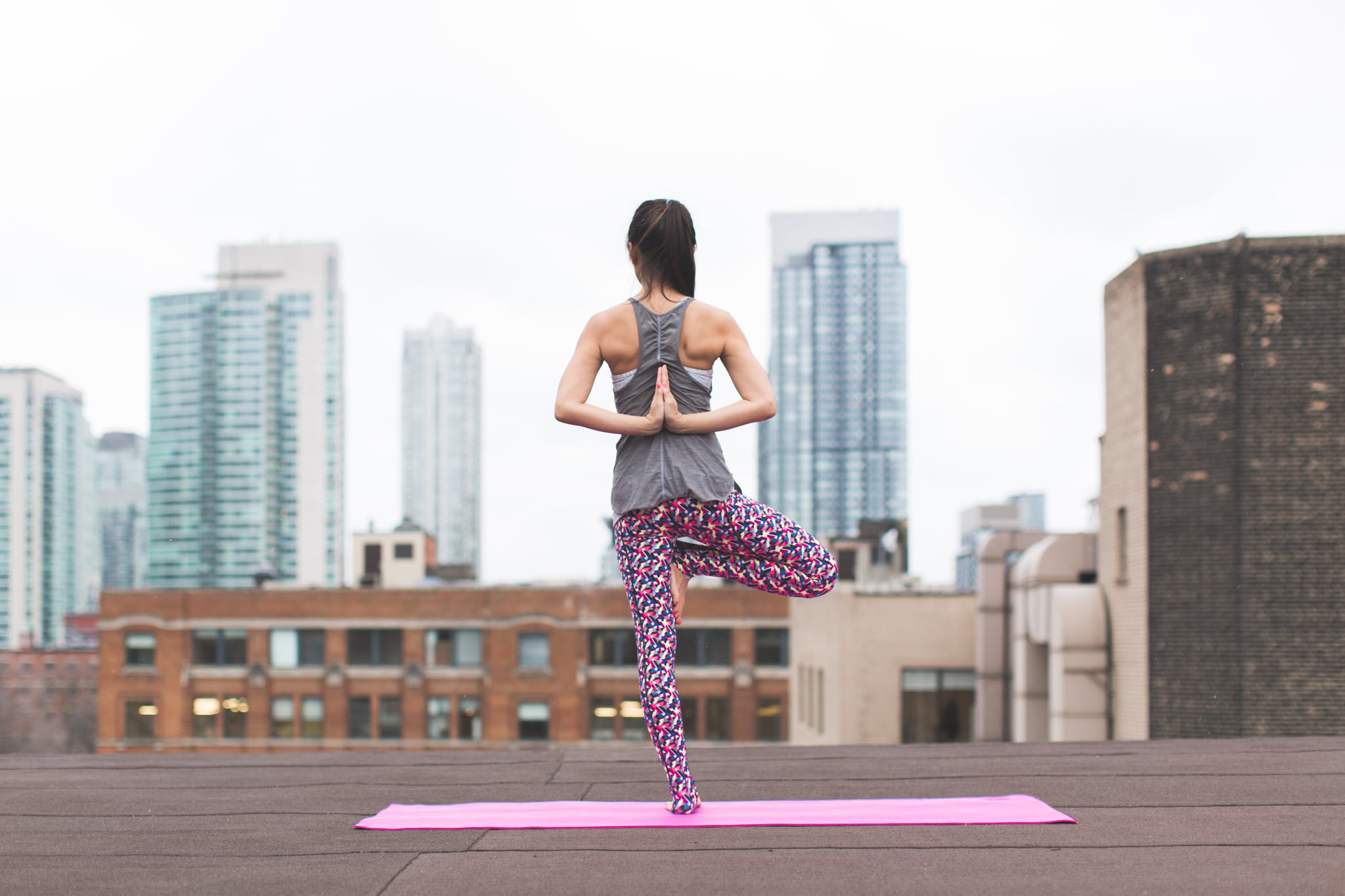 I have always been a worrier. From the small things like the weather to the more serious stuff — you know, like global warming — I sweat it all. And I've been in this frantic state of mind ever since I can remember. My mom tells me this is just who I am; it's part of my personality. But who wants to be a ball of nerves all the time? Not me.
Yet after months (OK, more like years) of experimenting with different anxiety-easing methods — therapy, colouring, list-writing . . . you name it, I've tried it — I've finally found something to quiet my worrisome mind. That something is yoga. Now don't get me wrong, I am by no means a yogi (more like a wannabe yogi), but with every class, I can feel my mind turning down the volume on my anxiety. More importantly, I can feel myself becoming stronger, both mentally and physically. And oh, how liberating it feels!
If you, too, are at wit's end with thoughts constantly rattling around, I challenge you to roll out a mat and give yoga a go. You most likely won't feel a difference right away, but give it time and the change will come. Trust me, as someone with 26 years of worrying experience, this calming practice can work wonders if you give it the chance. Below are three ways yoga has helped tidy up my messy mind.
1. I've captured control of my inner thoughts.
My first yoga class was a total wreck. My noisy, nagging brain wouldn't simmer down. I kept thinking about all I needed to get done that day. That week. That month. Even thoughts of the coming years were starting to creep in. Yet I quickly realised that if I was going to one day reap the rewards of serenity, I would have to embrace mindfulness. But how?
I challenged myself to only focus on the mat. Not the room. Not the people perfecting the poses in front of me. Just me and my island of foam. And for 60 minutes, that's what I slowly learned to do. But because focusing on the present moment felt so soothing, I sought out ways to be mindful outside of yoga. I challenged myself to switch up little things throughout my day. Whether it was walking down a new street or forcing myself to actually take a lunch break and step outside for fresh air, by becoming more aware of my surroundings, I captured more control of my mind instead of allowing my mind to completely control me.
2. I can harness the power of breathing.
I once heard a yoga teacher direct a class to "inhale the good sh*t and exhale the bullsh*t." I laughed at the time (which helped me get through that moment's Chair Pose), but that saying has stuck with me like glue. In fact, it's become somewhat of my mantra. Think about it: when you breathe in positivity, that energy has power over your thoughts. And the same goes with negativity. So get those negative vibes out!
At the studio where I regularly attend classes, we take a lot of collective breaths together during our practice. The instructor will tell us to exhale everything out of our lungs. Next, take a deeeeep inhale and hold it. Breathe in one more sip of air and then let it all go with a big "H-A." Talk about a meditative feeling. Try it, you'll see!
Before yoga, I wasn't aware of the healing power breathing can have on the mind. But now that I see this glorious light, I can't begin to tell you how many times I use these techniques in my everyday. When I have control over my breath, I find control over my thoughts and the cycle continues.
3. I've gained a new sense of patience.
Nothing happens quickly in yoga. Even after months of practice, I am still far from a euphoric state of mind. My thoughts still often ripple through any given Downward Dog. I am still far from those acro-yoga tricks. Come to think of it, I still haven't mastered the forearm headstand. I have a long way to go, but that's the point. Yoga isn't just a beautiful practice, it's a way of life.
If you look at the practice as a whole, it can be overwhelming, but if you take it one step at a time — one day at a time — you will improve your skills. With diligence, practice, and patience, your mind will become more balanced. Your thoughts will slow down. Ultimately, you will carve the path to becoming your own warrior rather than worrier.
Ready for Child's Pose yet?
Podcasts and Apps For the New Year
As the festive season comes to an end, New Year's resolutions begin. For some, this means creating healthier eating habits and jump-starting a new workout routine, while for others, it means making time for more self-care ,or simply making a commitment to travel more. With all of this in mind, creating an atmosphere of wellness and inspiration is vital for carrying your resolutions to the finish line, and a perfect place to start is with podcasts.
Podcasts and apps can help you achieve your resolutions while doing everyday activities, like going for a walk, shopping, or during your evening skincare routine. The best part? It doesn't matter if you're a meditation guru or vinyasa flow newbie — there is something for everyone that explores all elements of wellness. Here's a list of 11 podcasts and apps that'll motivate you on demand and inspire you to see those resolutions through, well into the new year.
My Water Balance App Review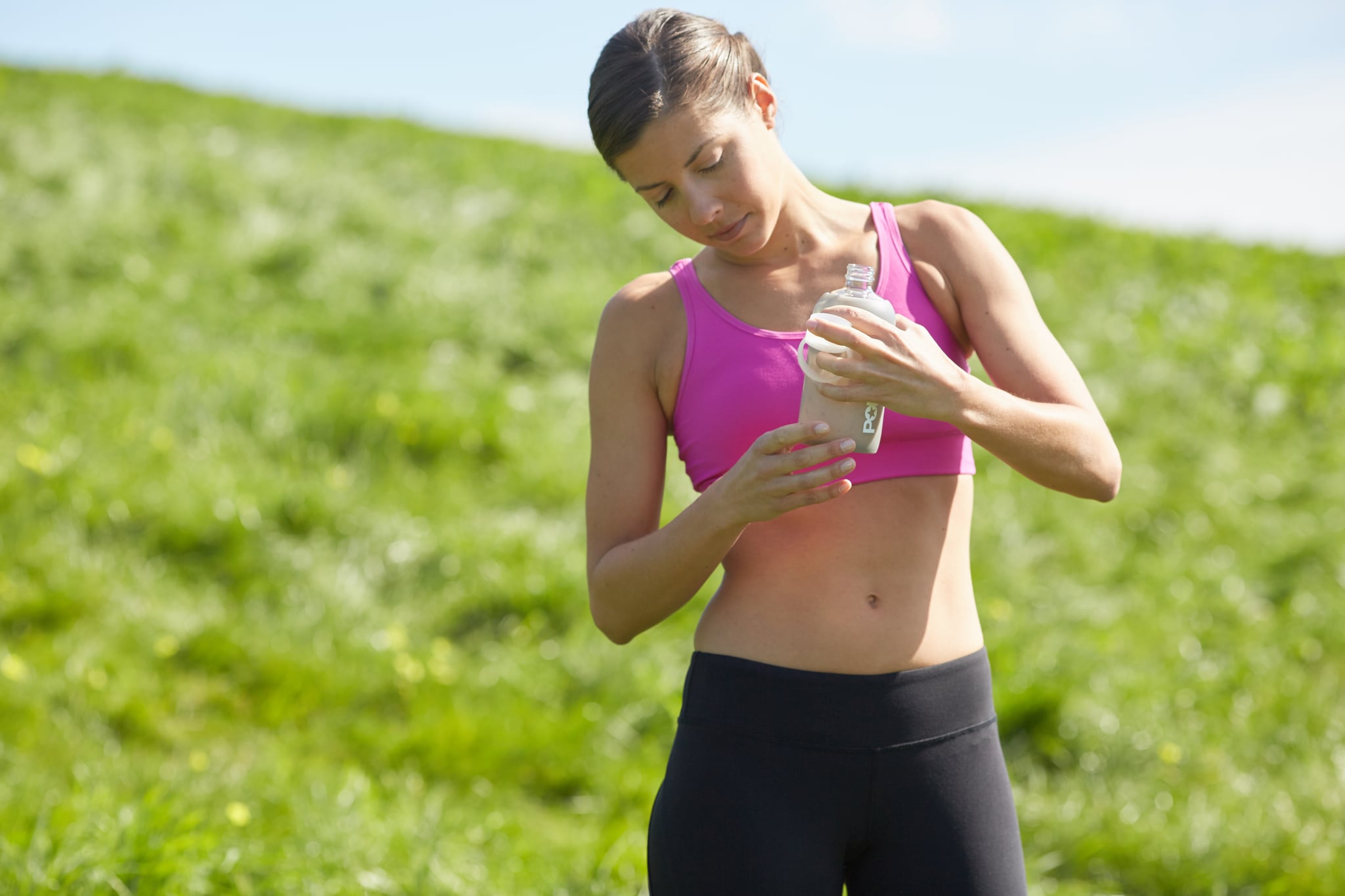 During busy social periods like Christmas and New Year, it's easy to find yourself overdoing it when it comes to alcohol. With happy hours, holiday parties, and social gatherings, that one cocktail can quickly become three or four. Even if you're good at moderating your intake, the older you get, the harder those hangovers can be to manage. Over the past couple of years, I've found that even a couple of glasses of wine can leave me waking up the following morning with a raging anxiety hangover.
Headaches I can take, but the sinking feeling that I've done something terrible (even though I remember every minute of the night before) is not something I enjoy. Experts agree there is a strong link between alcohol and anxiety, and that's definitely something I've experienced since hitting my 30s. So I decided to look into ways of reducing those anxious feelings (without having to give up alcohol entirely), and one thing that came up again and again as a possible cause was dehydration.
Could it really be as simple as drinking more water? I had my doubts, as I've always been pretty good at drinking water or juice throughout the day anyway, but I decided to try properly tracking my water intake for a while anyway. A few apps I already had (like my Fitbit app and the WW app) allowed me to log my drinks, but I decided to download My Water Balance, which goes one step further. It allows you to log specific drinks, including alcoholic ones, and when you do so, the app will automatically adjust your plain water intake to compensate for the diuretic or dehydrating properties of other drinks (coffee, tea, and soft drinks are all included, too).
Let's just say this was a huge eye-opener. No wonder I was waking up with a dry mouth and feelings of dread. If you thought having a couple of glasses of water at the end of the night was enough to offset three glasses of wine, you're way off. For three months, I made an effort to only go to bed when I'd hit my lofty target of 2.5 litres of water per day. On days when I drank alcohol, the recommended intake would quickly go up, and I must confess I felt like a camel at times, storing away gallons of water. I also needed to get up and go to the loo in the night, often twice. But it was worth it, because those anxiety hangovers all but disappeared. I was genuinely amazed by how much of a difference it made.
Though we're all different (and my anxiety is very mild), I definitely recommend installing this app and upping your water intake if you know that alcoholic drinks can have adverse effects on your body or mood. Obviously the best way to avoid these symptoms is to avoid drinking entirely, but not all of us are ready to go completely cold turkey, particularly at such a busy time of year. Practice moderation, have a glass of water by your side at all times, and perhaps you'll wake up on New Year's Day with a clear head for once?
Best Bodyweight Core Exercises | POPSUGAR Fitness UK
You know losing belly fat is all dependent on what you eat, not just doing a million crunches every day. But once you get leaner by eating a healthy, balanced diet, you'll want to reveal a strong, chiseled core. You don't need equipment to make that happen! These are the best bodyweight moves to get you a six-pack. Choose five or more to create your own core-carving workout.