5 Common Myths About Protein
How and when you get your fats, carbohydrates, and protein every day can have a big impact on your ability to improve your physique. But when muscle building, strength development, and body-composition improvements are the goal, protein has a special significance. So why is protein surrounded by so many myths and bad information?
If you've ever eavesdropped on a bunch of lifters for more than a few minutes, odds are that protein came up in conversation—and in particular, how they meet their daily protein requirements.
They also probably said things like this:
You need 1 gram of protein per pound per day.
You need to get your protein every two hours.
Your body can only absorb about 20 grams of protein per meal.
You have to get your protein inside the "anabolic window" which slams shut shortly after you work out.
Whey is the best form of protein, everything else is just an impostor.
Sometimes something sounds right just because it's been repeated so often. But that doesn't mean it is right. Here's where each of these protein myths go wrong.
1. How Much Protein You Need Depends on Your Goals
Your daily protein requirement depends on whether you're in a calorie deficit to lose fat or a calorie surplus to gain size. But the research definitely doesn't say "more to grow, less to cut." The opposite is true!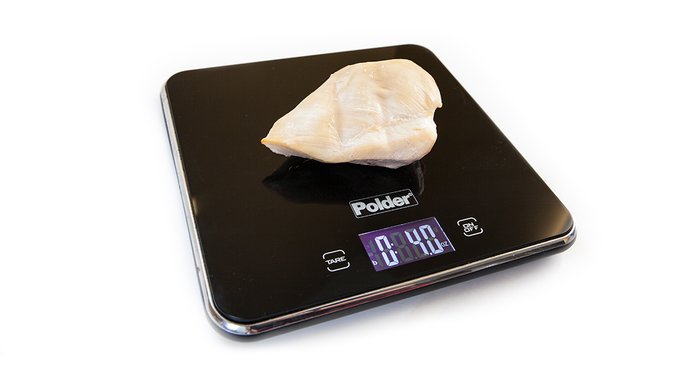 If you're dieting, you need to consume more protein to minimize muscle loss, keep yourself feeling full to stave off hunger, and lose more fat. Research suggests that a range of 0.8-1.4 grams of protein per pound of body weight per day is the most effective amount to preserve lean body mass when you're cutting.[1] The overall consensus for all athletes eating for maintenance or in a caloric surplus is to consume 0.5-0.9 grams of protein per pound.[2]
Factors such as your age, how conditioned you are to strength training, and what sport and activities you participate in affect where within these daily protein ranges you need to aim. For example, aging increases protein needs and people who have done more strength training actually require less protein.
In short, no one-size protein requirement is right for everyone. And more isn't always better. It may just be…more.
2. You Don't Need Protein Every 2-3 Hours
No, you don't need to consume protein every two hours. Researchers have looked at the activation of muscle-building signals in response to protein ingestion. But these early studies were done with resting subjects, and their signals to stimulate muscle growth returned to baseline around 180 minutes after the subjects consumed protein.[3]
This measurement of the time after protein ingestion, known as the "muscle full" effect, gave rise to the idea that if you're chasing gains, you have to continually top up your protein intake to keep those muscle-building signals flowing.
More recent research has shown that resistance training delays the "muscle full" effect for up to 24-hours after a workout.[4] This means that the protein you consume all day, not just within a few hours of your workout, plays a role in your hypertrophy.[5]
In terms of when you plan your meals, evidence suggests that eating six or more meals a day doesn't produce demonstrably superior results or dramatically boost the availability of protein to your body.[6]

3. Think in Terms of Total Leucine, Not Total Protein
The idea that the human body can absorb only about 20 grams of protein per meal was based on research about whey and egg proteins. The body is able to absorb these two specific forms of protein very rapidly, so consuming 20 grams of these proteins per meal causes maximum stimulation of muscle proteins.[7,8]
The results of this research led to the suggestion that, because muscle proteins were maximally stimulated with 20 grams of protein, there was no benefit to consuming more and 20 grams constituted a ceiling for protein consumption.
We know now that the reason 20 grams led to maximum muscle stimulation was because whey and egg proteins are rich in the amino acid leucine, which is directly responsible for switching on anabolic muscle protein signals. The 20 grams of these proteins yielded about 1.8 grams of leucine, which turns out to be the real limit.[5]
To get 1.8 grams of leucine from lean beef, you'd need to eat 113 grams, which would include a total of 30 grams of protein. If you prefer brown rice protein, you'd have to eat about 48 grams of it to get your leucine quota.[9,10] In short, the limit of how much protein you could or should eat has more to do with how much of that protein it takes to get 1.8 grams of leucine, not how much actual protein you eat.
4. Take Your Time Climbing Through the Anabolic Window
The idea that you have to chug your protein shake before you've hit the shower is another myth that, once dispelled, will make your life easier. The so-called "anabolic window" is really pretty big—big enough for you to finish your workout, take your shower, make your way home, and eat a whole-food meal.
Research shows that muscle protein activation peaks within 1-2 hours after resistance training. Whether you consume your protein immediately after your workout or within a couple of hours, the anabolic response will be roughly the same.[11]
To maximize the hypertrophic signals that protein trigger, eat a meal containing 30-45 grams of protein three hours before your workout, then consume a leucine-rich meal or supplement up to three hours after.[6] Turns out that when you do resistance training, the "anabolic window" is almost like an "anabolic day." You've got plenty of time to get your macros, so don't stress out about it.
5. Whey Is Great Protein, But Not Necessarily the Best
When it comes to the quality of a protein, it goes back to the amount of leucine the protein contains. The research that led people to conclude whey was superior to other forms of protein was comparing the same absolute dose of each. When the researchers compared the amount of leucine in 20 grams of whey versus 20 grams of brown rice protein, whey got higher marks because it has more leucine per gram, but that doesn't mean it's the best or only way to get it.[5]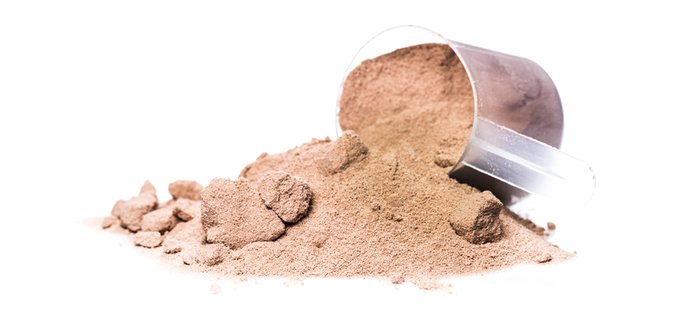 Researchers then looked at the amount of leucine in different proteins, instead of the amount of protein. They found that the activation of muscle-building signals was the same between different types of protein once the threshold of 1.8-2 grams of leucine was reached.[5] The researchers found, for example, that it takes 48 grams of rice protein or 25 grams of pea protein to yield the same 1.8 grams of leucine you can get from 20 grams of whey.[10,12]
Whey might contain a high concentration of leucine, but you can still get all the leucine you need from other proteins, you just might have to eat more. If you're following a plant-based diet, or if you find that whey causes you intestinal distress (or just olfactory distress to those sitting around you), you lose nothing by opting for a plant-based protein such as pea protein. It will take 25 grams of pea protein rather than 20 grams of whey to get your leucine dose, but you'll get it all the same.[13]
References
The Best Running Headtorches | Coach
It takes a hardy person to not only head out for a run at night, but to do so in a place without street lights. If you are one of those runners, we salute you. Your bravery and commitment to the sport know no bounds.
We also heartily encourage you to get a good headtorch, because running in pitch-black conditions is a recipe for disaster even if you stick to the flattest asphalt. And if you are heading off-road then only the very brightest of headlights will do, if only because tripping over a root in the woods while running in the dark sounds like the start of a horror film.
Avoid unexpected pitfalls on your night runs with one of these hyper-bright headlights.
Best Budget Option: Kalenji ONNIGHT 710
While it's not as bright and long-lasting as some of our other picks, the ONNIGHT 710 is an excellent cheap option that will more than suffice for runners who aren't looking to log all-nighters on the trails. The rechargeable battery lasts three hours at the highest 300-lumen light setting, which is bright enough provide around 75m of visibility, and there are two lower lumen settings (120 and 30) when you're looking to conserve juice.
Buy from Decathlon | £24.99
Best For City Runners: Black Diamond Iota
The Iota is a very lightweight headlamp that's great for short runs in dark urban areas rather than complete wilderness. The max output is only 150 lumens and the battery powers that level of brightness for just two hours, but the Iota's very comfortable to wear. The battery is rechargeable and there's a three-level gauge that shows how much you have left when you turn the light on.
Buy from Amazon | £36.69
Best Budget Smart Headtorch: Petzl Reactik+
This smart headlight is the ideal option for those who hate having to adjust their lamp during a run. The Reactik+ takes in the ambient light around you and automatically adjusts its beam to suit the conditions, although you can override the automatic lighting whenever you like. It also links with an app so you can set up the light profile you want and get details on how much battery life you have left – on the brightest setting of 300 lumens the rechargeable battery will last 2½hours.
Buy from Amazon | £67.74
Best For Ultramarathon Runners: Petzl Nao+
An altogether more extreme option for those who frequently run through the night on technical terrain. The Nao+ has a 750-lumen front light which reacts to ambient light like the Reactik+ does, and also a back light which is often a requirement for entering through-the-night ultramarathons. The rechargeable battery will last 6½ hours on the highest setting, and you can move the battery pack from the headband to a belt accessory to make the Nao+ more comfortable to wear for long periods.
Buy from Amazon | £124.37
Best For Battery Life: Black Diamond Icon
By opting for four AA batteries rather than a rechargeable unit, the Icon offers a monster 70 hours of juice on its highest 500-lumen setting. You might be thinking that strapping four AA batteries to your noggin will make the Icon uncomfortable and you'd be right, but fortunately the pack can be moved to waist pack or pocket easily.
Buy from Amazon | £69.50
How To Maintain Your Willpower During Sober October
If you're currently in the middle of an attempt to avoid alcohol throughout the month of October, then all power to you. Taking a month off the booze is a great way to reassess your relationship with alcohol, and also to show off the benefits of cutting back to both your health and your wallet.
However, let's not pretend that it's going to be an easy ride. By the middle of the month your motivation to stay dry is probably starting to wane.
"The first week is often the easiest," says Jo Hemmings, a behavioural psychologist and supporter of Macmillan's Go Sober for October. "And the last is OK because you're in the home straight. Weeks two and three are usually the most difficult, when your willpower is at its lowest."
If you are finding it harder and harder to stay on the wagon as October progresses, then heed this advice from Hemmings on how to maintain your motivation.
Look In The Mirror
The benefits of going booze-free become apparent very quickly.
"After just a week, your skin will look better, you'll have better-quality sleep and you will probably have lost a few pounds," says Hemmings. "Embrace those positives."
A dry October provides a well-timed health boost as well, because Christmas is around the corner. When you consider all the partying to come, a sober October will start to feel like a blessing.
"Christmas is coming up. It's a time of excess – whether food, spending or alcohol," says Hemmings. "With your one month sober, you'll be in tip-top physical and psychological health."
Treat Yo' Self
If you're someone who frequently hits the pub after work, the amount of cash you'll have saved after just a couple of weeks will be considerable. Put that money towards something more lasting than a couple of quick drinks.
"Think of the money you're saving and maybe treat yourself to something," says Hemmings.
Occupy Your Mind
The hardest times to avoid alcohol will be the times you'd normally be drinking so it's helpful to come up with alternatives.
"Don't clock-watch," says Hemmings. "If you're someone who likes a drink on a weeknight, for example, do something else to take your mind off the booze."
One thing you could try is exercise. That might sound like a joyless double whammy – no booze and you have to work out – but exercise will make you feel excellent, we promise. And given that you've been off alcohol for a couple of weeks, you'll be feeling healthier and readier to work out.
"While you're feeling fitter, do some regular exercise. It releases feelgood endorphins, the body's natural narcotic," says Hemmings.
Get Creative With A Mocktail
When the going gets really tough, try a mocktail to take the edge off the urge to drink without actually indulging.
"They taste great and give you the satisfaction of a booze-free cocktail," says Hemmings. "You can find some great examples on the Go Sober For October website."
Get Some Social Support
As long as you avoid certain areas of the internet, you'll find it a very supportive place. Lots of people will be trying to stay dry this October, and lots of them could be struggling just like you, so get online and start backing each other up. Check out the hashtag #GoSober on Twitter, Instagram and Facebook to find other people signed up for Macmillan's Go Sober For October campaign.
Remember One Drink Isn't The End Of The World
Stay sober if you can, obviously – but if you do have a drink, don't let it spiral out of control and give up on the month entirely.
"If you do find yourself tempted into a drink, don't be hard on yourself," says Hemmings. "It happens. Don't give up, just start back again tomorrow. Don't let one bad day spoil your efforts."
This Parmesan And Broccoli Festoni With Maple-Cured Bacon Recipe Is A Great Mid-Week Dinner
To answer what is probably your first question, it's a type of pasta, and yes, you can use penne instead. Festoni might be a more exciting ingredient to throw into the mix, but it's not the easiest type of pasta to find so you can stick with the trusty tube if needs be.
Your second question might well involve some combination of the words "parmesan", "bacon" and "healthy" in a questioning tone. And sure, this isn't the healthiest recipe on Coach (there's white wine in it, too, and let's face it, you're not letting the rest of the bottle go to waste are you?), but we're very much of the view that cooking for yourself with whole foods is an easy route to improving your diet, which is why we thought this recipe from Waitrose was worth sharing. Plus, we're not saying you should eat bacon and cheese for every breakfast, lunch and dinner. In fact, we'll actively say not to do that. Don't do that.
Anyway, this dish also has broccoli in it, so there you go. The recipe below calls for purple-sprouting broccoli spears, but if they're not available you can use tenderstem instead.
Preparing the ingredients should take around ten minutes and cooking only 15, meaning that this recipe is a great quick meal you can pull together in the evening on work nights when time is tight. That's as long as you haven't spent an hour in the local shop trying to find festoni pasta.
Ingredients (serves four)
400g festoni (or penne) pasta, dried
2 x 200g packs purple sprouting broccoli spears
2tsp olive oil
250g maple-cured smoked back bacon, chopped
2 cloves garlic, crushed
150ml dry white wine
50g freshly grated parmesan
Method
Cook the pasta according to pack instructions. Meanwhile, trim the thick ends from the broccoli and cut the stems into 1cm lengths, leaving the florets whole. You should have about 300g, including some of the broccoli leaves. Add to the pasta water for the final two to three minutes then drain, reserving about 4tbsp of the cooking water. Return the pasta and broccoli to the pan, covering to keep warm.
Heat the oil in a large pan and fry the bacon for four to five minutes until crispy. Add the garlic and cook for one minute. Pour in the wine and let it bubble, scraping up any bits from the base of the pan, until the wine is reduced by half.
Add the broccoli, pasta and reserved water to the pan. Mix together, then add most of the parmesan, stirring until all the ingredients are coated.
Serve immediately with freshly ground black pepper and the remaining cheese.
Recipe and image courtesy of waitrose.com